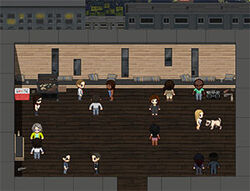 The ex is a character that the player can choose from among the guests on the patio at the party after selecting the Protagonist. As with the main character, you can choose gender, race and sexual orientation which has an impact on several parts of the game.
The names of these characters can be chosen freely, however, the ones not chosen will appear as NPCs in the game and thus have given names. A few of these characters are not mentioned, though
Ad blocker interference detected!
Wikia is a free-to-use site that makes money from advertising. We have a modified experience for viewers using ad blockers

Wikia is not accessible if you've made further modifications. Remove the custom ad blocker rule(s) and the page will load as expected.